GSM/GPRS WiFi Camera Module breakout Board A20 IoT
Description:
The A20 module is a higher version of A6C module, not only combines GSM/GPRS and 0.3M camera, also it merges ESP8285 WiFi module in it, the dimension of the A20 module itself is very small, only 22.6 x 19.6mm, here is the breakout board with the SIM card, antennas and camera on the board helps you start the development works easily. All the A20 module pins break all the pins out, very suitable for testing the GSM/GPRS and camera function. With this module, you can build a wireless camera, take pictures and send the picture via GPRS or WiFi to the internet. Also it is possible to control the camera by remote method, or sending a text message to the SIM card.
Note: The USB port is just for power, you can program the ESP8285 with Arduino.

Specification:
Breakout board dimension: 34.2 x 51.9 mm
A20 module dimension: 22.6 x 19.6

Operating Voltage: 3.3V - 4.2V
Working Temperature: -30 ℃ to +80℃
Boot Voltage: >3.4V
Standard Power supply: DC 5V, 1A
GSM/GPRS Frequency Band: including 850, 900, 1800, 1900 MHZ
GPRS Class 10
Sensibility: <-105
SMS message: Support
GPRS maximum speed: Download speed 85.6Kbps, Upload speed 42.8Kbps
Camera resolution: 0.3M
Support Picture translate, maximum speed 16KB/S

Image format: JPEG
Image resolution: VGA(640*480), QBGA(320*40, QQBGA(160*120)

ESP8285 WiFi IC

AT Command: Support standard GSM07.07, 07.05, and extended Ai Thinker command

Audio: Support digital and analog audio, support HR, FR, EFR, AMR audio code
Certification: ROHS, FCC, CE, CTA

Application:
IoT
Outdoor monitoring
Agricultural monitoring
industrial monitoring
Smart home
driving exam system
Visual Access Control System
A20 module Pins Explanation: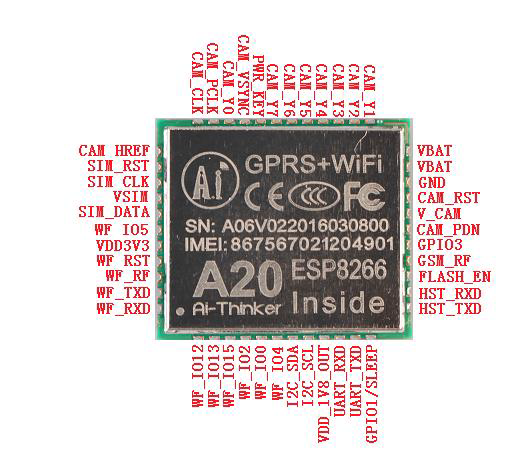 Breakout board dimension: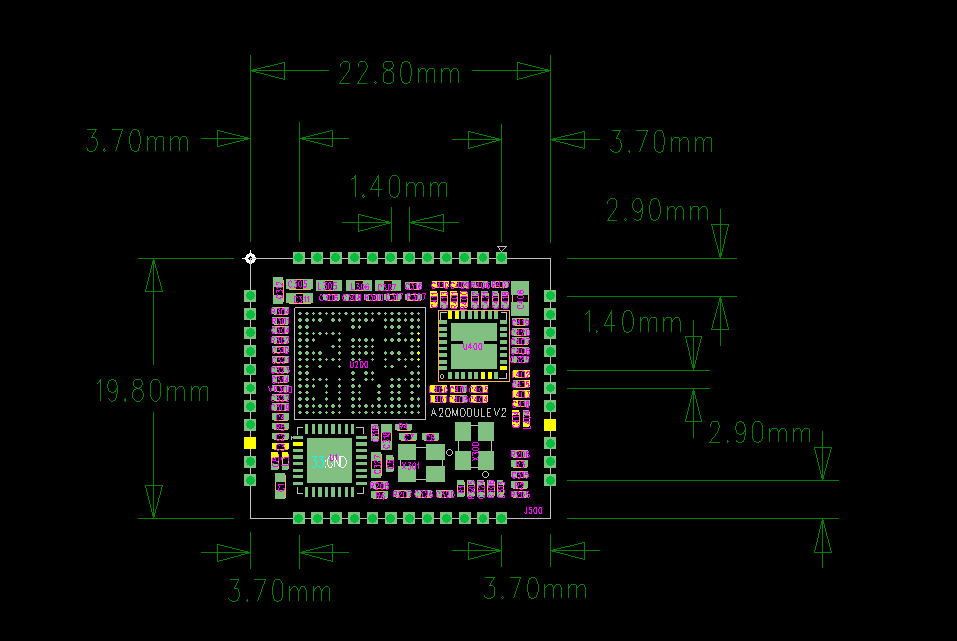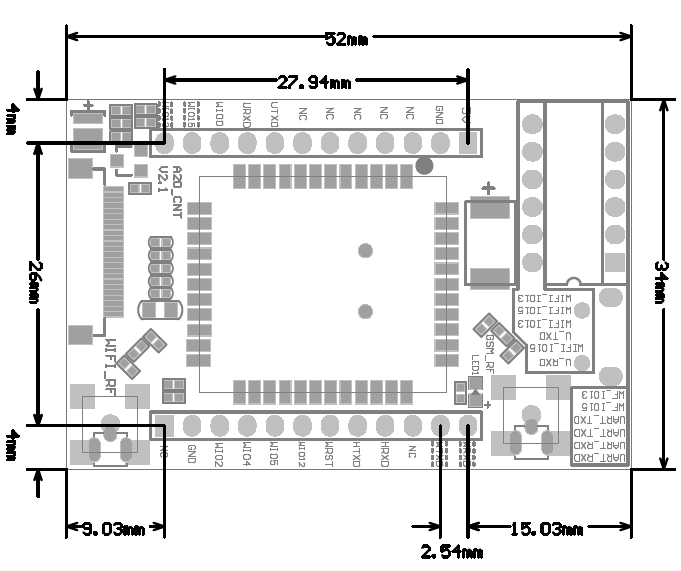 Document:
A20_breakout_board_sch_V2.1.pdf