LED Aluminum PCB Prototyping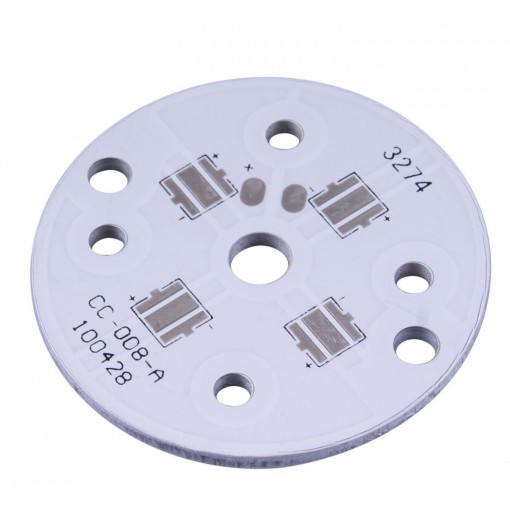 Introduction:
The easiest and fastest way to get 1 layer 10 to 1000pcs Aluminum PCBs prototype for an incredible low price while the production and quality control follows all industrial standards.
How it works:
Choose your options above.
Verify that your Gerber files comply with all limits.
Upload your Gerber files.
Add to Cart.
Done.
For bigger quantities, special options, tests, panels, discounts or combination with our other services contact us directly at pcb@smart-prototyping.com.
Combinations:
If you want more than only a naked PCB you can combine the PCB prototyping service together with our other electrical prototyping services to a turnkey solution:

Solder Paste Stencil: the solder paste stenil is Laser-cut steel on a aluminum frame with a minimum recommended pitch of 0.4mm.
Please make sure the effective area is twice as big as your PCB so that top and botom side can be placed on the same stencil.
| Effective Area | Total Size | Price |
| --- | --- | --- |
| 14.0 x 24.0 cm | 30.0 x 40.0 cm | $17.7 |
| 19.0 x 29.0 cm | 37.0 x 47.0 cm | $20 |
| 24.0 x 34.0 cm | 42.0 x 52.0 cm | $28 |
| 37.0 x 47.0 cm | 55.0 x 65.0 cm | $44 |
| 27.0 x 37.0 cm | 45.0 x 55.0 cm | $36 |
| 40.0 x 40.0 cm | 58.4 x 58.4 cm | $44 |
Separated Sub-Boards: for separating boards please use a slot according to following pictures. Drilling holes or other methods for separating boards will be NOT accepted. Boards which are separated only by silk-screen are not counted as sub-boards and don't have to be payed extra. Junctions between V-Slots are always crossing (X). For other junctions like (T) or (L) you need to use the normal milling and not the V-Slot.

Responsibility: We are not taking any responsibility for your Gerber files. We are using them as-they-are for producing the PCBs, so make sure that they comply with all limits and standards.
Downloads: