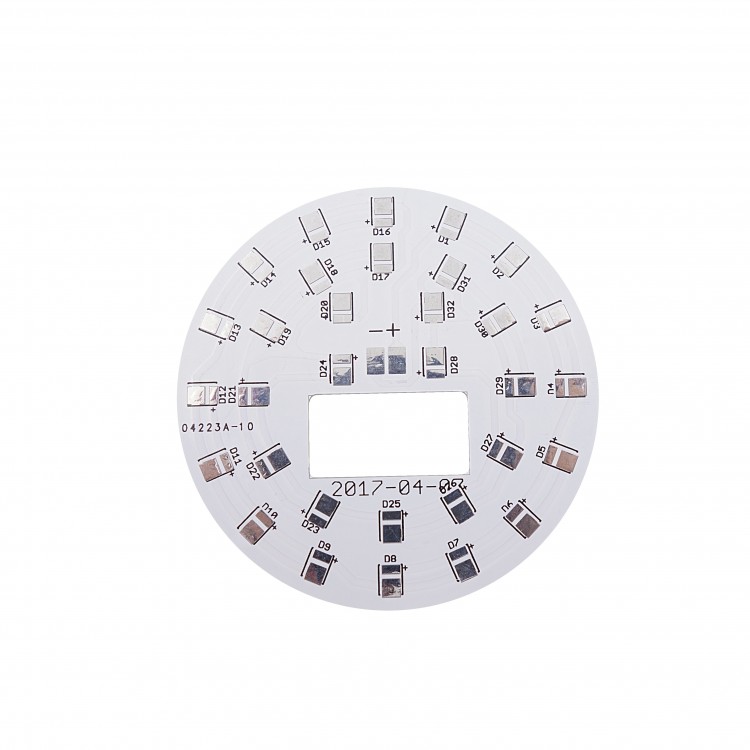 Introduction:
Aluminum PCBs are the perfect solution if you're designing high-current / high-temperature circuits where heat dissipation is a major concern. So if your next project is a hybrid guitar amp to blow the roof off of the garage, or a badass laser rifle (check your local laws, kids!) to fend of extraterrestrial invaders, or even a high-power compact motor driver or LED floodlight (if, for some reason, you're committed to practical applications), seriously consider choosing aluminum as your PCB substrate. FR4 is great, but Aluminum is the way to go when the heat is on and you want to keep things cool.

Diagram of Aluminum PCB:

Aluminum PCBs produced by us are most commonly and widely used for LED lighting, power equipment and automotive systems. The following table presents some of our Aluminum Core materials:
Parameters Name
Test Condition
Unit
Typical Value
Peel Strength
A
N/mm
>=1.5
After Thermal Stress
>=1.5
Surface Resistance
A
MΩ
>=106
C-96/35/90
>=105
Volume Resistivity
A
MΩ.cm
>=109
C-96/35/90
>=108
Dielectric Constant
C-96/35/90
1MHz
<=4.4
Dielectric Loss Factor
C-96/35/90
1MHz
<=0.03
Puncture Voltage
AC
KV
1.5-3.5
Thermal Stress
288°C 2min
/
no layer separate, no bubbling
Combustibility
A
/
V-0
CTI
A
/
400
TG
IPC-TM-650 2.4.25
°C/W
250
Thermal Resistance
Internal To-220 Test
°C/W
<=0.03
Thermal Conductivity
ASTM E1461
W/m.k
0.8-1.0
Check our Aluminum core PCB manufacturing capabilities in the following table:
| Features | Capability |
| --- | --- |
| Number of Layers | 1 layer |
| Order Quantity | 5-10,000+ pcs |
| Building Time | 3 days - 2 weeks |
| Borad Size | Min 1x1 cm, Max 50x50 cm |
| Board Thickness | 1.0 - 1.6 mm |
| Copper Thickness | 1oz |
| Min Trace/Space | 6mil/6mil |
| Solder Mask Color | White, Black |
| Surface Finish | HASL, Lead Free |
| Via and Through hole | Not Supported |
Aluminum Core PCB for LED application
Aluminum is superior in heat conduction, corrosion resistance, lightweight and cost.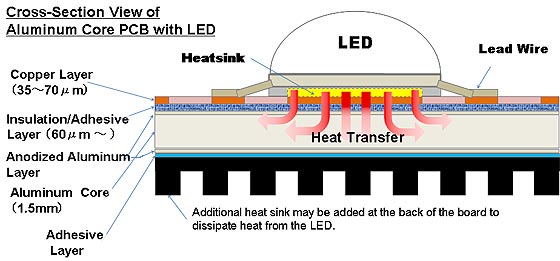 Getting started with LED Aluminium PCB Prototyping
The easiest and fastest way to get 1 layer 10 to 1000pcs Aluminium PCBs prototype for an incredible low price while the production and quality control follows all industrial standards.
How it works:
Kindly choose the available options as shown above and send your PCB Gerber files that complies with all the limitations. You can upload the Gerber files after verifying the credentials. After this is done, simply just click "add to cart" and you're good to go.
For bigger quantities, special options, tests, panels, discounts or combination with our other services, kindly contact us directly at pcb@smart-prototyping.com.
Combinations
If you want more than only a naked PCB, you can combine the PCB prototyping service together with our other electrical prototyping services into a turnkey solution:

Solder Paste Stencil
The solder paste stencil is a Laser-cut steel on aluminum frame with a minimum recommended pitch of 0.4mm. Please make sure the effective area is twice as big as your PCB so that top and bottom side can be placed on the same stencil.
| Effective Area | Total Size | Price |
| --- | --- | --- |
| 14.0 x 24.0 cm | 30.0 x 40.0 cm | $17.7 |
| 19.0 x 29.0 cm | 37.0 x 47.0 cm | $20 |
| 24.0 x 34.0 cm | 42.0 x 52.0 cm | $28 |
| 37.0 x 47.0 cm | 55.0 x 65.0 cm | $44 |
| 27.0 x 37.0 cm | 45.0 x 55.0 cm | $36 |
| 40.0 x 40.0 cm | 58.4 x 58.4 cm | $44 |
Separated Sub-Boards
For separating boards please use a slot according to following pictures. Drilling holes or other methods for separating boards will be NOT accepted. Boards which are separated only by silk-screen are not counted as sub-boards and don't have to be paid extra. Junctions between V-Slots are always crossing (X). For other junctions like (T) or (L) you need to use the normal milling and not the V-Slot.

Note
Please take note that we're not responsible for your Gerber files and we are using them as-they-are for producing the PCBs. Customers are advised to make sure that the Gerber file complies with all limitations as according to our standards.
Downloads:
LED Aluminium PCB Prototyping