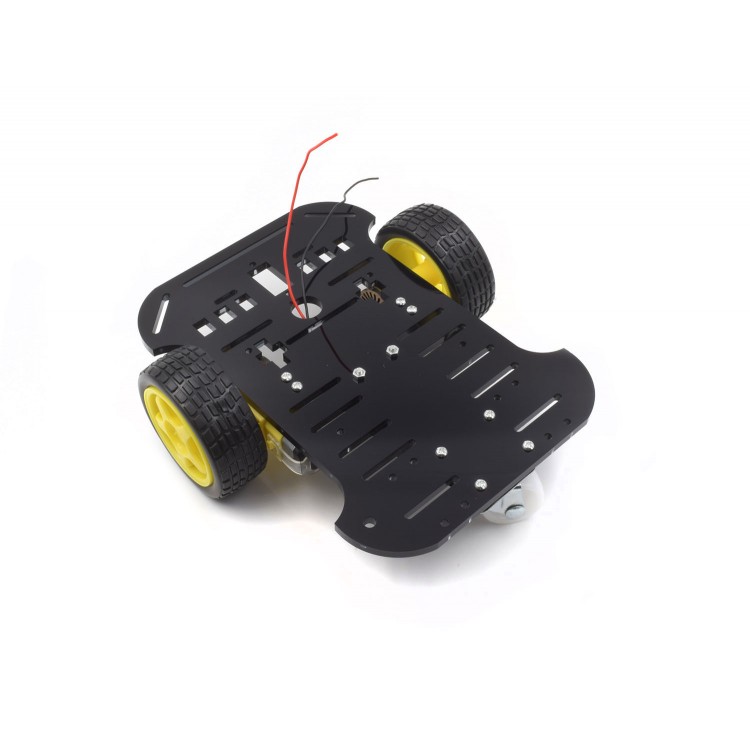 Description
Made of sleek, black acrylic, this small, yet spacious 2-wheel-drive is your economical intro to robot building.
The grip is enhanced with two rubberized wheels, minimizing slippage when operating on smooth surfaces. Two DC motors power the wheels while a 3rd plastic wheel is included to go underneath the robot and provide balance.
All the mounting hardware you need to setup the skeleton and motor system are included. Made for indoor use, it has a mini form factor that is about the size of an adult's hand-span.
Easy to use with your choice of microcontroller, install your favorite sensors and modules and rev this robot car to life.
Note: This is just the body of the robot. Microcontroller, sensors, and batteries, not included.
Package includes:
x1 Acrylic Chassis
x2 Motors
x2 Rubberized Wheels
x1 Small plastic wheel
x1 Battery holder
x4 Power cables
x2 Motor fixtures
x4 8 mm Standoffs
x4 M3 30 mm Screws
x8 M3 8 mm Screws
x4 M3 3 mm Screws
x6 M3 Nuts
x2 M3 Flathead screws
x2 Encoder Gears
Specifications:
Robot height: 2.6 in (6.5 cm)
Weight: 0.73 lb. (330g)
Chassis length: 7.9 in (20 cm)
Chassis width: 5.5 in (14 cm)
Wheel height: 2.6 in (6.5 cm)
Wheel width: 1 in (2.6 cm)
Chassis distance from ground: 2 in (5 cm)
Gear ratio 1:48
No-load speed: 130rpm
Plastic Robot Chassis Kit (2WD) (101837)
This kit includes everything you need to build the body of this budget-friendly 2WD robot