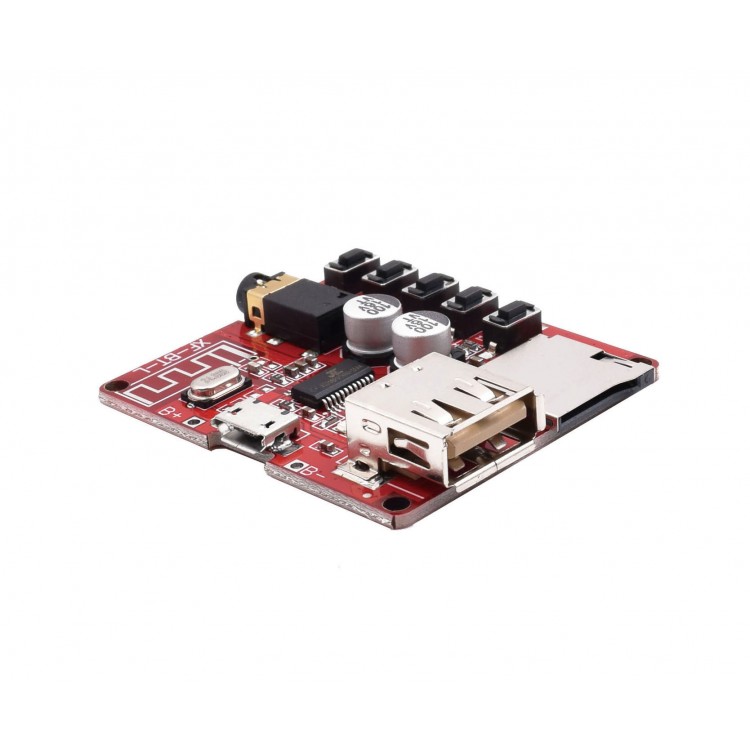 Description:

This is a small MP3 Player module that has multiple interesting features, it supports playing sound tracks from U disk, micro TF card and outsource bluetooth device. The audio output side is a 3.5mm audio female connector, to allow you to connect it to your own loud speaker or headset.
The module's power is a micro USB connector. There are few buttons on board offer some predefined features:
MODE: change sound track source from TF card, U disk and Bluetooth
P/P: Play and Pause
NEXT/ V+: Short press is for next soundtrack, long press is for volume increase
PREV/ V-: Short press is for previous soundtrack, long press is for volume decrease
RPT: Repeat current soundtrack, press again to cancel repeating
Note: Everytime when the module is powered on, if there is no U disk or TF card connected, the default Mode is Bluetooth Mode. In Bluetooth Mode, the "XFW-BT" is the bluetooth module device name, after connecting to your smartphone, you are able to play music with this module.
Specifications:
Power Supply: 3.7V-5V, recommended 5V
Support Bluetooth Profile: A2DP/ AVCTP/ AVDTP/ AVRCP/ HFP
Bluetooth Effective Distance: >15m
Supported Disk Format: FAT16/ FAT32, NTFS is not supported
Dimension: 47 x 41mm
Weight: 10.9g
Bluetooth MP3 Player (102046)