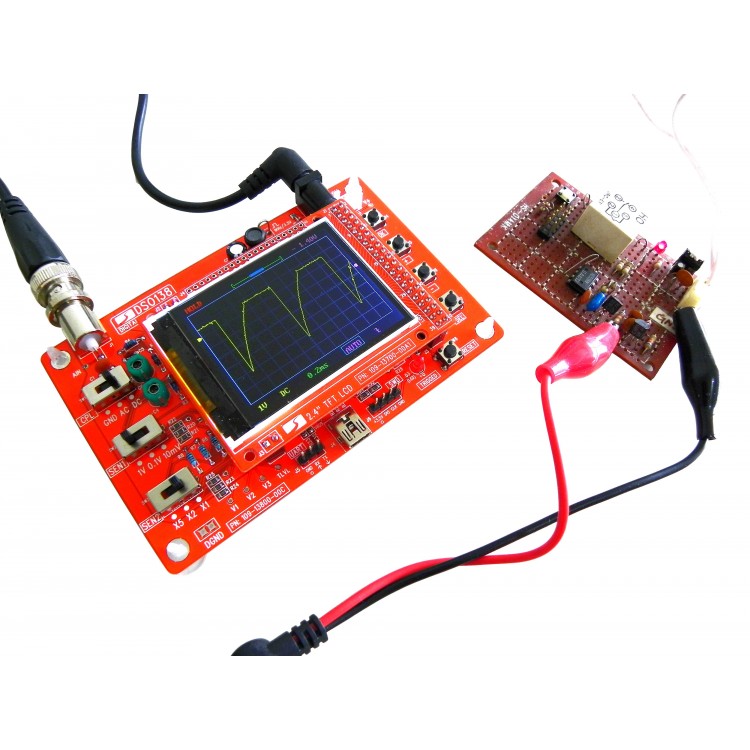 Description:

DSO138 DIY Oscilloscope kit was designed for both training and tool of development use. The design is clear and easy to understand. Users will have more understanding for oscilloscope during soldering the kit, and own a very useful oscilloscope which is made by their own hand.

Specification:
MCU: ARM Cortex-M3 (STM32F103C8 )

Number of Channel: 1
Analog Bandwidth: 0 - 200KHz
Sensitivity: 10mV/Div - 5V/Div
Sensitivity error: < 5%
Resolution: 12-bit
Maximum Input voltage: 50Vpk
Coupling: DC, AC, GND
Max Real-time Sampling Rate: 1Msps
Time-base: 10us/Div - 500s/Div
Record Length: 1024
Trigger Modes: Auto, Normal, Single
Trigger Types: Rising/falling edge
Trigger Position: 1/2 of buffer size fixed
Display: 2.4-inch color TFT LCD with 320 x 240 resolution
9V DC (8 - 12V acceptable)
Supply Current: 120mA
Dimension: 117mm X 76mm X 15mm
Weight: 70 gram (not including cables)
Important Notes:
It is assumed that users have adequate soldering skills and troubleshooting skills to assemble the DSO138 kits.

We don't guarantee that you can get a working deice in the end.

But we make as much efforts as we can to help you approaching that goal.
Each main-board has been tested to ensure no short or open on MCU soldering. Each LCD board is also tested to verify soldering is good and display is functional. However, all the rest components are provided with good quality.

User Guide and Datasheet:
Packing list:
Assembled kit:
1x DSO138 Oscilloscope
1x Power supply adapter
1x Acrylic case (parts)
Unassembled kit:
1x All the necessary parts of DSO138 Oscilloscope
1x Power supply adapter
1x Acrylic case (parts)
DIY Digital Oscilloscope Solder Kit DSO138 (101759)