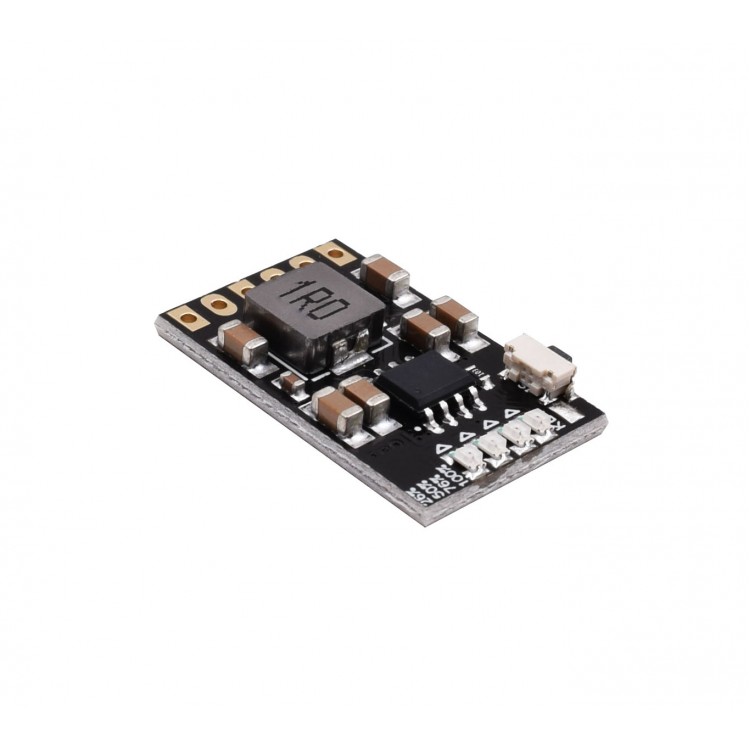 Description:

This battery manager board is an easy solution for any products that require charging and outputting features. It also has four LEDs on board, to indicate the battery level when it is charging or output (working).

It can support up to 2.1A charging current under 5V input power, and 0- 3.5A output at 5V. The battery full charging voltage is 4.2V. It has all the needed battery protection features, like over current protection (OCP), over voltage protection (OVP), short circuit protection (SCP), and over temperature protection. It could also support charging and output at the same time, but usually that is not recommended.

On the board there are 6 pins for you to connect to the battery, charging power and output circuit. Please refer the following connection map: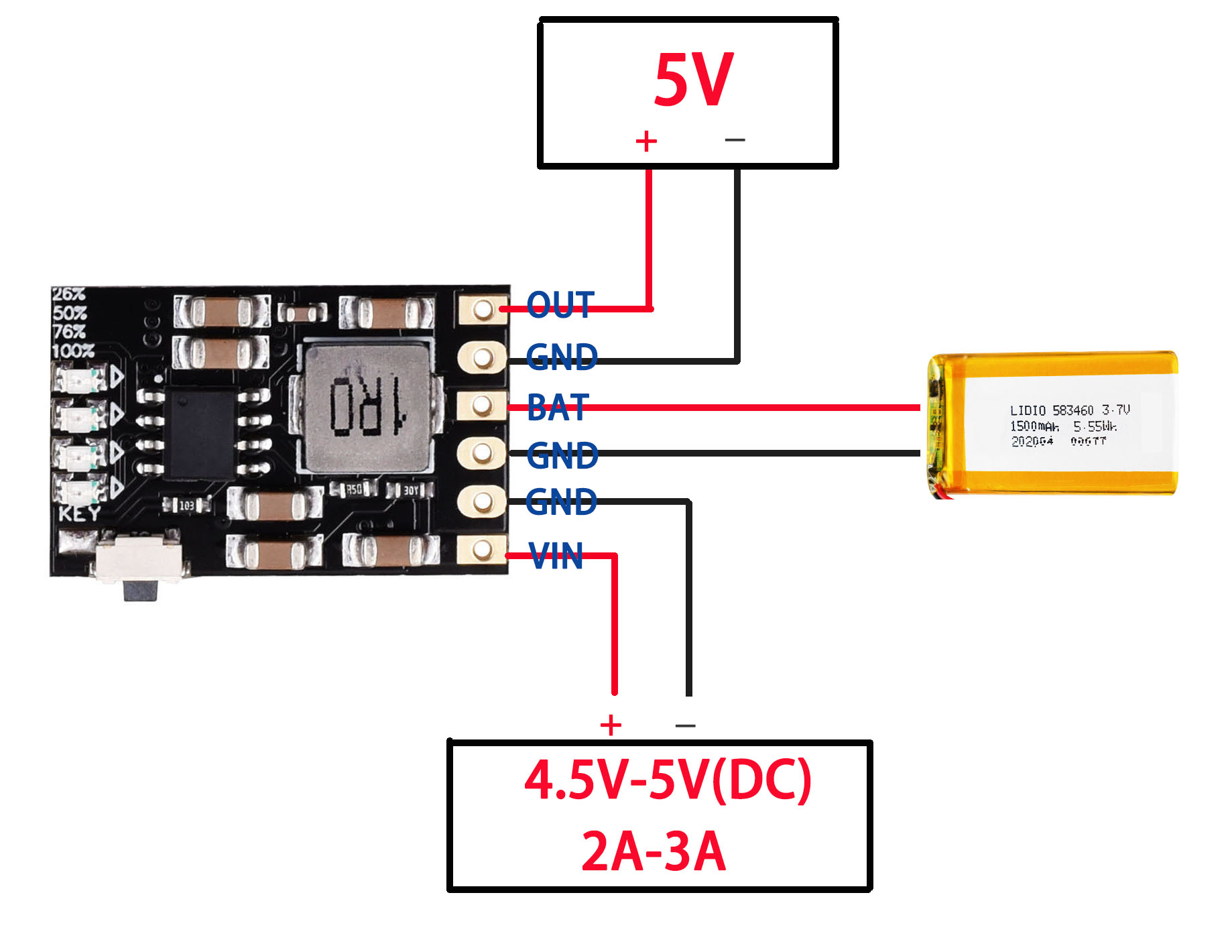 Note:

This module is only suitable for 4.2V (1 cell) batteries.
There are two versions of the module, standard version and new version. The difference is the output mode. If the output current is less than 50mA in 30 seconds, the standard version's output will be automatically cut off, this mode is specially for power bank charging smartphone's battery, to avoid over charging. The new version will keep outputting all the time, this could be used for low power devices that are often under low power status.



Specifications:

Charge Voltage: DC 4.5V - 5.5V (Suggest 5V)
Charge Current: 0 - 2.1A
Charge Quiescent Current: 100μA
Discharge Current: 0 - 3.5A
Discharge Quiescent Current: 50μA
Output Voltage: 5V
Output Current: 0 - 2.1A
Dimension: 16 x 25mm

Weight: 2.5g

The LED indicators status and battery level when charging and output:

When battery is outputting:
| | | | | |
| --- | --- | --- | --- | --- |
| Battery Level (%) | LED 1 | LED 2 | LED 3 | LED 4 |
| >= 75% | ON | ON | ON | ON |
| >= 50%, < 75% | ON | ON | ON | OFF |
| >= 25%, < 50% | ON | ON | OFF | OFF |
| >= 3%, < 25% | ON | OFF | OFF | OFF |
| > 0%, < 3% | 1.5Hz Blinking | OFF | OFF | OFF |
When battery is charging:
| | | | | |
| --- | --- | --- | --- | --- |
| Battery Level (%) | LED 1 | LED 2 | LED 3 | LED 4 |
| 100% | ON | ON | ON | ON |
| >= 75% | ON | ON | ON | 0.5Hz Blinking |
| >= 50%, < 75% | ON | ON | 0.5Hz Blinking | OFF |
| >= 25%, < 50% | ON | 0.5Hz Blinking | OFF | OFF |
| < 25% | 0.5Hz Blinking | OFF | OFF | OFF |
18650 Battery Manager Board (5V, 2A) (102055)