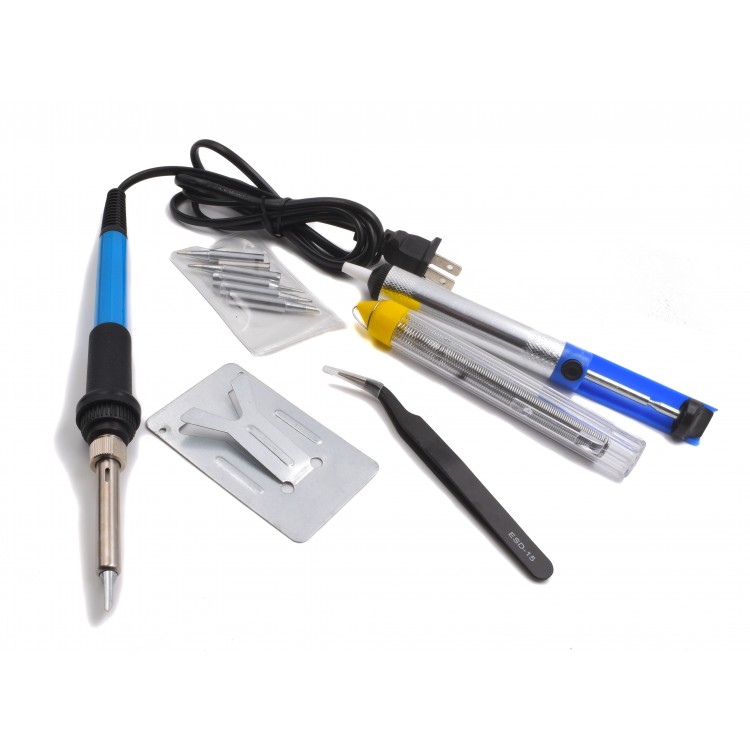 Description
This is an RTS (Ready to Solder!) kit for beginners and hobbyists. It contains all necessary things to start soldering including a soldering iron, a mini iron stand, solder wire, a desoldering pump (solder sucker), and five different types of soldering tips.
Don't underestimate the soldering iron because the kit is affordable. The soldering iron is decent quality for a low-cost kit used to solder some pin headers, half-cut holes on boards, or power cable. It comes with a handy temperature adjuster from 200 to 450 degrees Celsius

Specifications
Solder Iron Power Supply: 110V/220V (Optional)
Working Power: 60W
Temperature Range: 200, 250, 300, 350, 400, 450 degrees C
Kit Weight: 210g
Package List

1x Solder Iron
1x Desolder Pump (Solder Sucker)
1x Solder Wire
1x Solder Iron Stand

5x backup Soldering Tips

1x Anti-static Tweezers

Solder Starter Kit (101848)
A low-cost soldering kit for the beginner or hobbyist. It contains all the basics you need if you're learning how to solder or just need to do the occasional soldering job.