Wireless Charger (5V 500mA)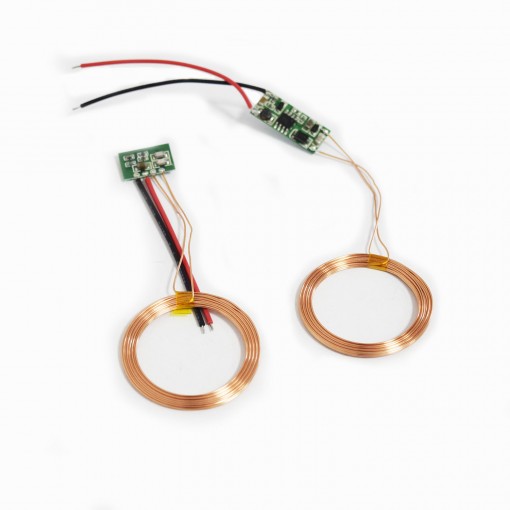 Introduction:
Have you ever tried to charge your robot, Arudino or other product wireless? If not then you should definitely try this out. This device is a small, easy to use and cost-effective wireless charger which can be used in a wide range of products to add a wireless charging function. Build the transmitter module inside a base station and the receiver inside your product and you will get immediately wirelessly transmitted 5V and up to 600mA at the receiver's side which can be used for charging and/or powering your device.
Perfect for small robots, medical devices and other products which needs wireless charging to be waterproofed or become more convenient.

Features:
easy to install

small size

precise output voltage

reliable

Specifications:
Input Voltage Transmitter: 12VDC (13.5VDC max)
Output Voltage Receiver: 5VDC (regulated)
Output Current Receiver: 500mA (600mA max)
Distance between Transmitter and Receiver: 1-20mm
Dimesions: 17x12x4mm (Tranmitter), 24x10x3mm (Receiver)
Coil Dimensions: Radius 38mm, Height <2mm
Coil Inductance: 30µH
Coil Isolated: yes

Package Content:
1x Pair of Receiver and Transmitter