Description

This is an amazing tiny wearable full-color LED halopixels, it has 12 RGB addressable LEDs. With a BLE Microcontroller, Halopixels allows you to use an application to control the light color, and the way of blinking / shining. A perfect wearable device for party!

The dimension of the product is super small almost the same like a Coin, with only 5mm thickness in total. Considering it contains Battery, Antenna, MCU and 12 full-color LEDs we have designed it to be compact enough to fit as wearable. With a full charged 3.6V 2032 size coin battery, it can continuously blinking for around 3 hours.

We've add some accessories with halopixels, so you can use it for different usage. Like Earring, ring, pendant, necklace, brooch or badge.

In order to protect the environment, we recommend to use 3.6V rechargeable Li-Ion battery to power the halopixels.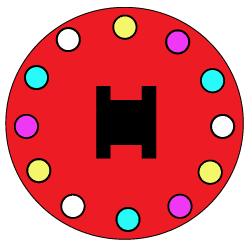 Specifications


Lasting time: 2.5-3.5 hours, depends on the LED brightness
Battery: 3.6V 2032 coin battery
Operation Voltage: 3.3V
Current: 10mA to 25mA
Controlling by the Bluetooth
Dimension: 25.9mm diameter, 5.1mm thickness
Weight (with battery): 4.4g



Packaging List

1 x Halopixels
1 x Coin Battery Charger
1 x Li-Ion R2032 Battery (3.6V, rechargeable)
1 x Necklace (Silver 45cm)
2 x Magnets (19.5 x 9.4 x 2.77mm)
1 x Ring Mounting (stainless steel, adjustable ring diameter)
Links:
Halopixels (101965)