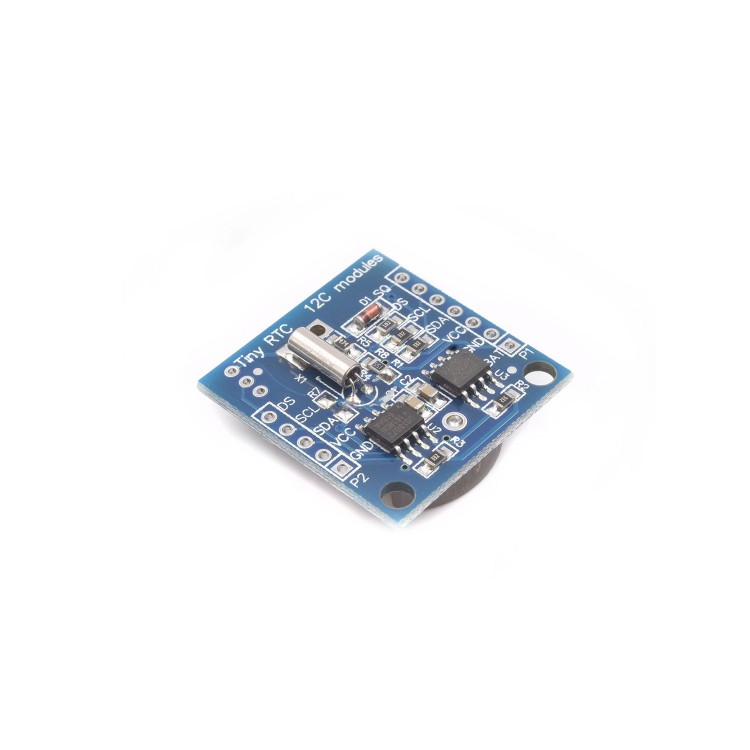 Features:
Consumes less than 500nA in battery-backup mode with oscillator running

Automatic power-fail detection

56-Byte, battery-backed, general-purpose RAM

Backup by AT24C32 32Kbit

I2C Serial Interface
Description:
This little, RTC (real time clock), will keep track of time even if reprogrammed or if power is lost. Use it in projects for data logging, clock-building, time stamping, timers, alarms, etc.
Since an Arduino microcontroller's time keeping ability (millis()), is very limited in capability—i.e. can only keep track of time since its last power-up—it's useful to have a separate RTC chip to keep a consistent count.
This module will keep track of time by seconds, minutes, hours, days, months, and year. You can program it to run either by 24-hour or 12-hour formats with AM/PM. It even accounts for months with less than 31 days and leap-years.
While the battery is not included (we recommend a coin cell battery), from this tiny RTC's low power consumption you can expect it to run 5 years or more. If there is a power failure, the built-in power-sense circuit will automatically detect and switch to backup supply, preventing an interruption in time-keeping. It works best with 5V power.
Package Content:
1x RTC I2C real time clock module 24C32 storage DS1307
Datasheet:
Real Time Clock Module (I2C) (10100004)