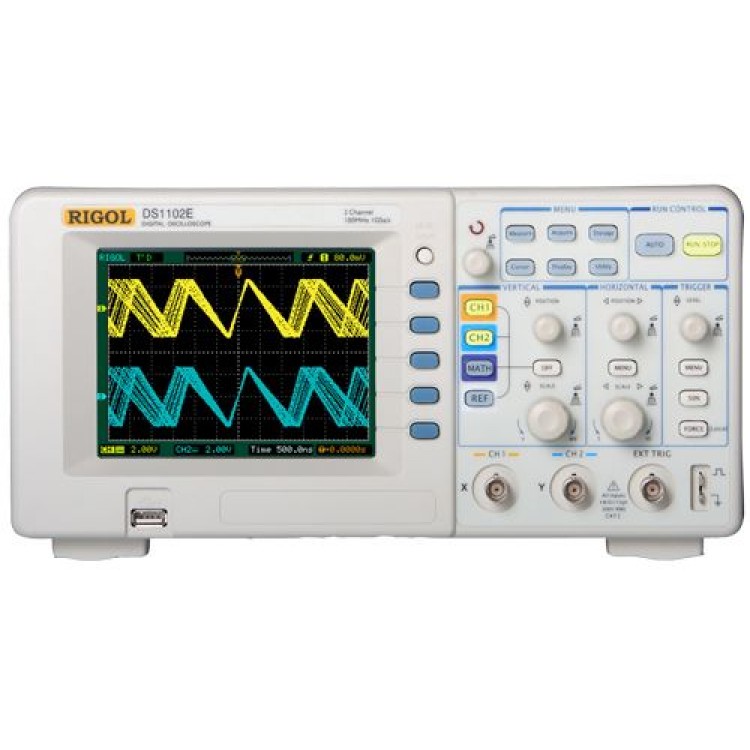 Introduction:
This is the best digital oscilloscope for a small budget we found on the market.
Large display, easy user interface and fast enough for most applications.
Perfect for beginners and education.
See the related products for other oscilloscopes.
Features:
2 analog channels, 100MHz bandwidth, 1GSa/s maximum real-time sample rate and 25GSa/s equivalent time sample rate
5.6" TFT QVGA (320X240) with 64K color LCD backlighted display
Trigger modes: edge, pulse width, slope, video, alternate trigger
Multiple interface configurations: Standard USB Host and USB device, RS-232 and support U disk storage and PictBridge print standards, optional USB-GPIB adapter
easy user interface
low price
Details:
Specification
Channels
2
Bandwith
50 MHz (DS1052E) | 100MHz (DS1102E)
Sample Rate
1GSa/s (half chanel), 500MSa/s (each chanel)
Logic-Analyzer
no
Input Coupling
DC, AC, GND
Input Impedance
1MOhm±2%, the input capacity is 18pF±3pF
A/D Converter
8-bit resolution, all channels sample simultaneously
Volts/div Range
2mV/div~10V/div (at the input terminal connecting to BNC)
Maximum Input
Maximum input voltage on analog channel
CAT I 300Vrms, 1000Vpk; instantaneous overvoltage 1000Vpk
CAT II 100Vrms, 1000Vpk
RP2200 10:1, CAT II 300Vrms
RP3200 10:1, CAT II 300Vrms
RP3300 10:1, CAT II 300Vrms
Offset Range
±40V (250mV/div~10V/div)
±2V (2mV/div~245mV/div)
Trigger Modes
edge, pulse width, slope, video, alternate trigger
Display Type
145mm (5.6 inch) diagonal TFT Liquid Crystal Display
Display Resolution
320 horizontal ×RGB×234 vertical pixels
Display Color
64k color
Display Contrast
150:1 (typical)
Backlight Brightness
300 nit (typical)
Supply Voltage
100 ~ 240VAC, 45~440Hz, CAT II
Power Consumption
Less than 50W
Fuse
2A, T rating, 250 V
Product Dimension
303x154x133mm
Product Weight
2.3kg

For more information, specification and function please check the datasheet.

Package Content:
| Quantity | Content |
| --- | --- |
| 2 | Passive Probes (1.5m) (1:1 or 10:1 adjustable) |
| 1 | Power Cord (please select above for which country) |
| 1 | USB Cable |
| 1 | CD-ROM (including User's Guide and Application Software) |
| 1 | Quick Guide |
Links & Downloads:
Rigol Oscilloscope DS1000E (100412)