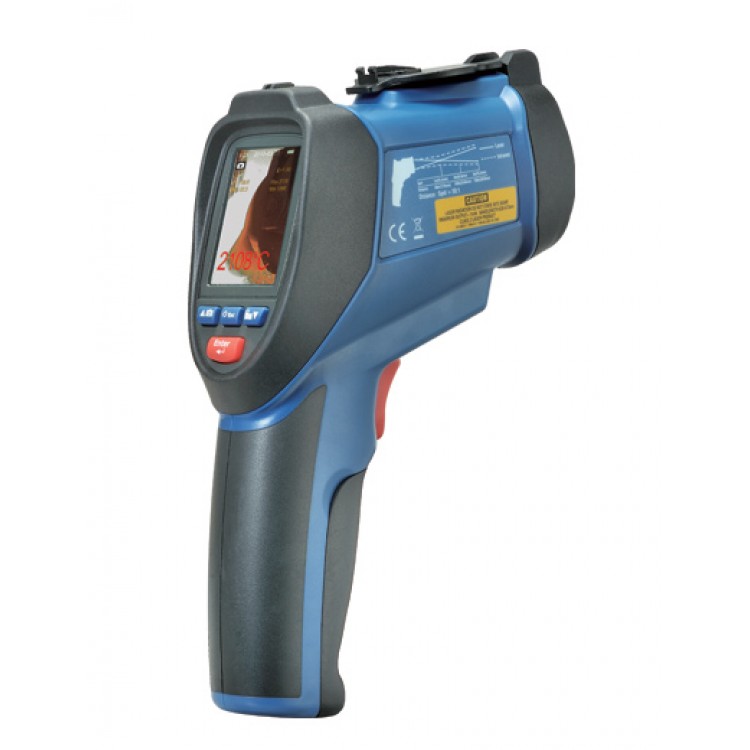 Introduction:
This is the best infrared thermometer with camera for a small budget we found on the market.
Wide temperature range, fast response time, image and video record and easy to use.
Perfect for measuring all kind of temperatures, saving them with date and time on the SD Card and analyzing them later at the office.
The two extra bright laser beams make it easy to target the right object or spot.
See the related products for other infrared thermometers.
Features:
2.2" TFT 320*240 pixels Color LCD display
Camera 640*480 pixels
Images (JPEG) & Video (3GP)
Micro SD memory card
Dual laser targeting
Date/time setup controls
Auto Power Off
High Temperature
Max, Min, DIF, AVG record
High and Low Alarm
Adjustable Emissivity & Trigger Lock
Type K Input
USB Interface
Readings Memory
Humidity & Air Temperature
Dewpiont & Wet Bulb Temperature
Language Selection: English, Chinese, French, German, Spanish
easy user interface
good price
Details:
DT-9860
DT-9861
DT-9862
Range
-50°C to 1000°C
-58°F to 1832°F
-50°C to 1600°C
-58°F to 2912°F
-50°C to 2200°C
-58°F to 3992°F
| | |
| --- | --- |
| Basic Accuracy (IR) | ±1.0% of the reading |
| Type K Temp. Range | -50°C to 1370°C / -58°F to 2498°F |
| Basic Accuracy (TK) | ±0.5% of reading |
| Resolution | 0.1° up to 1000°, 1° over 1000° |
| Response Time | Less than 300ms |
| Optical Resolution | 50:1 Distance to Spot Size |
| Emissivity | Adjustable from 0.10 to 1.0 |
| Memory | Micro SD Card (8GB Max) |
| Air Temp Range | 0 to 50°C / 32 to 122°F |
| Air Temp Basic Accuracy | ±0.5°C / 1°F |
| Humidity Range | ±2.5%RH?20% ~80%RH) |
| Dew Point Temp. Range | 0 to 50°C / 32 to 122°F |
| Wet Bulb Temp. Range | 0 to 5°C / 32 to 122°F |
| Power Source | 3.7V Li Battery |
| Size | 125x58x205mm |
| Weight | 494g |
Package Content:
| Quantity | Content |
| --- | --- |
| 1 | 3.7V Li Battery |
| 1 | Type K Temperature Probe |
| 1 | USB Cable |
| 1 | Carrying Case |
| 1 | Gift Box |
Links & Downloads:
IR Video Thermometer CEM DT-986X (-50 to 2200 degree) (100474)