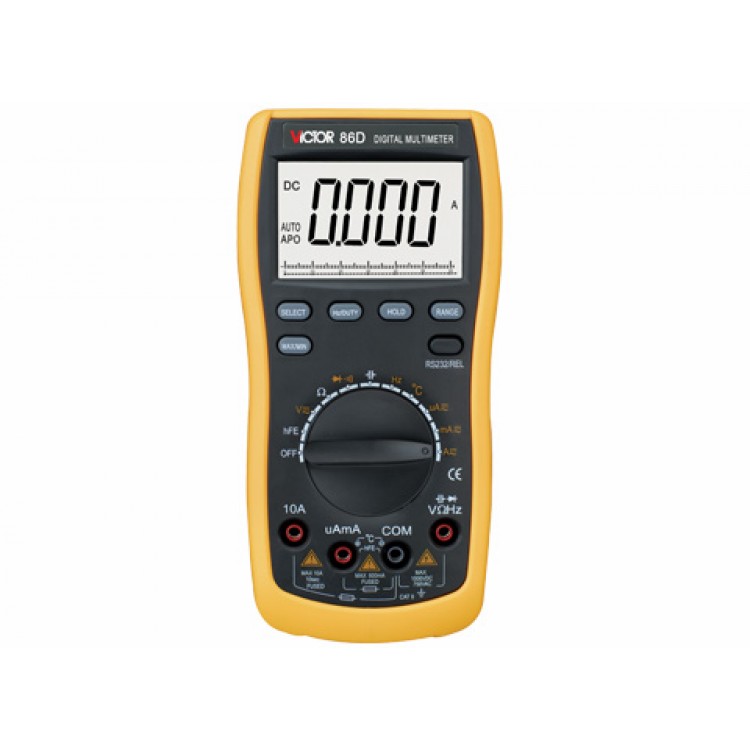 Introduction:
The is the best auto-range multimeter for a medium budget we found on the market.
Can measure besides all standard values also capacitance, frequency, temperature and test transistors and diodes.
Last but not least you can connect this multimeter via USB directly to your computer for automated data acquisition or just for displaying and saving the values.
Perfect for all advanced and professional users.
See the related products for other multimeters.
Features:
auto-range
USB/RS232 interface
great price/performance ratio
large display with backlight and bar-graphs
measures also capacitance, frequency and temperature
all functions are protected against too high voltage
rugged case
Details:
| Specification | |
| --- | --- |
| DC Voltage | 600mV/6V/60V/600V/1000V ±(0.5%+4) |
| AC Voltage | 6V/60V/600V/750V ±(0.8%+10) |
| DC Current | 600uA/6000uA /60mA/600mA/10A ±(1.2%+10) |
| AC Current | 600uA/6000uA /60mA/600mA/10A ±(1.5%+10) |
| Resistance | 600Ohm/6kOhm/60kOhm/600kOhm/6MOhm/60MOhm ±(0.8%+4) |
| Capacitance | 40nF/400nF/4uF/40uF/200uF ±(3.5%+8) |
| Inductance | --- |
| Frequency | 100Hz/1kHz/10kHz/100kHz/1MHz/30MHz ±(0.5%+15) |
| Temperature | -20...1000°C ±(1.5%+15) / 0...1832°F ±(1.5%+15) |
| | |
| Diode Test | yes |
| Transistor Test | no |
| Continuity Buzzer | yes |
| Low Battery Indication | yes |
| Data Hold | yes |
| Show Min/Max Values | yes |
| Auto Power Off | yes |
| Back Light | yes |
| Display Unit Symbol | yes |
| USB/RS232 Interface | yes |
| Function Protection | yes |
| Shockproof Protection | yes |
| | |
| Input Impedance | 10MOhm |
| Frequency / Duty Cycle | 0.1%...99.9% |
| Sampling Rate | 3Samples/s |
| AC Frequency Response | 4...400Hz |
| Setting Range | Auto |
| Max. Display | 5999 |
| LCD Size | 70x50mm |
| Battery | 3V (1.5Vx2) |
| | |
| Product Color | Case: Dark Gray; Holster Color: Yellow |
| Product Dimension | 191x93x48mm |
| Product Net Weight | 320g (including battery) |
Package Content:
| Quantity | Content |
| --- | --- |
| 1 | Measurement Cable |
| 1 | Temperature Probe |
| 1 | Battery |
| 1 | Instruction Manual |
| 1 | USB Cable |
| 1 | CD with PC Software |
| 1 | Protective Bag |
Links & Downloads:
Multimeter Victor 86D (U,I,T,R,C, Autorange, USB) (100411)