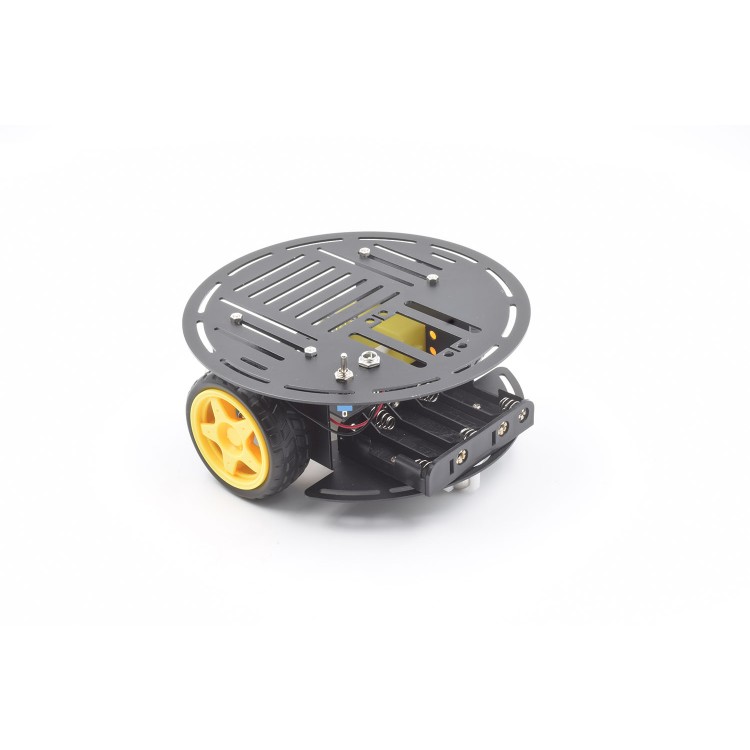 Description
This kit includes everything you need to build the body of a 2-wheel-drive Robot. For beginners and more advanced users alike, this kit is a great platform. For beginners just learning to construct a robot, this kit lets you build from the skeleton, up. Whereas for more advanced builders, use this platform to explore more advanced modules and sensors.
Made for indoor use, two circular, anodized aluminum, metal chassis provide a light, but durable frame. It is roughly the size of your hand-span. All the mounting hardware you need to set up the skeleton and motor system are included. Stability is provided through a ball-castor.
Easy to use with your choice of microcontroller, install your favorite sensors and modules and make this Scarab skitter. Combination choices are endless, but we recommend pairing: a 2DOF pan-tilt mount with an infrared, light, or an ultrasonic sensor to avoid obstacles; Arduino Uno; servo controller; motor driver; perhaps a TOF sensor; and a wireless RF module.
Note: This is just the body of the robot and motors. Microcontroller, sensors, and batteries, not included.
Package includes:
x2 Chassis panels
x2 65mm rubber wheel
x1 Universal ball castor
x1 DC Barrel jack panel mount
x1 Switch
x2 Power cables
Lots of M3 Nuts
x4 M3 25mm screws
x4 M3 10mm screws
x4 M3 6mm screws
x2 Washers
x4 Jumper wires
Specifications:
Robot height: 3.2 in (8 cm)
Weight: 1.12 lb. (506 g)
Diameter of chassis: 6.7 in (17 cm)
Wheel height: 2.6 in (6.5 cm)
Chassis distance from ground: 0.8 in (2 cm)
Height between chassis: 2.4 in (6 cm)
Gear ratio 1:48
No-load speed: 220rpm
Torque (3V): 3200 mg/cm
Torque (6V): 5500 mg/cm
Metal Robot Chassis Kit (2WD, 2-Layer) (101836)
This kit includes everything you need to build the body of a 2-wheel-drive Robot. Perfect for beginners and more advanced builders alike. Have you vroomed lately?