DC Power Supply LW PS-303DM 0-30V 0-3A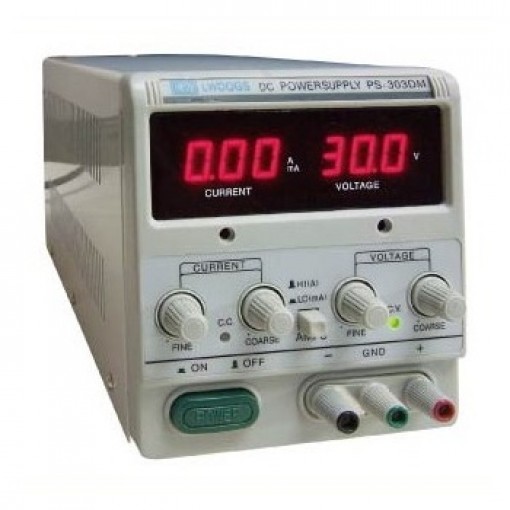 Introduction:
A good 30V/3A power supply. With 0-30V you have the right voltage for most low voltage applications, MCUs and motors while 0-3A provides enough current for the most low power applications.
The big red display shows you precisely what voltage and current you have set, while the fast reacting current limitation protects your precious circuit against being destroyed.

Features:
0-15V / 0-3A output
good price
bright display
precise voltage and current setting
precise current measurement
Details:
| Specification | |
| --- | --- |
| 1. Working & Storage Conditions | |
| Input | 110V/220V±10% 50/60Hz (switching transformation) |
| Output | 0-30V / 0-3A adjustable |
| Working Condition | Temperature: 0°C to 40°C |
| | Relative humidity: <80% |
| Storage Condition | Temperature: -10°C to 70°C |
| | Relative humidity: <70% |
| | |
| 2. Voltage Control Mode | |
| Output Voltage | 0-30V adjustable |
| Voltage Stability | Power Stability: <0.01%+3mV |
| | Load Stability: < 0.01%+3mV (Max. current<3A) |
| Recovery Time | 100µs (load-variant 50%, min. load current 0.5A) |
| Ripple & Noise | < 0.5mVrms (5Hz-1MHz) (max. current <3A) |
| Temperature Coefficient | < 300PPM/°C |
| | |
| 3. Current Control Mode | |
| Output Current | 0-3A adjustable |
| Current stability | Power Stability: <0.2%+3mA |
| | Load Stability: < 0.2%+3mA |
| Ripple & Noise | < 3mArms |
Package Content:
| Quantity | Content |
| --- | --- |
| 1 | Power Supply |
| 1 | Power Cord (please select above for which country) |
Links & Downloads: