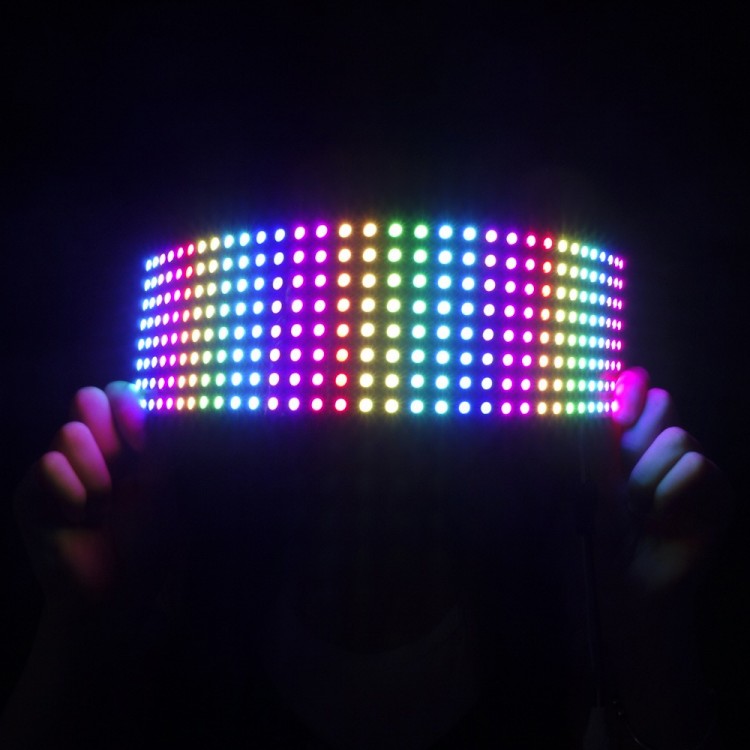 Description
This is a high-quality 8x32 pixel flexible LED panel featuring WS2812B addressable 5050 LEDs. The substrate is a 0.23mm flexible PCB which has greater heat-sinking ability than a standard FPCB. On the back side there is one wire harness with a connector for VCC, GND and signal input, one wire harness with a complementary connector for VCC, GND and signal output, making the panel chainable for combining multiple units into a larger array. There are also leads for VCC and GND in the middle of the back of the panel, allowing you to connect a high-current power source independent of the signal bus.
The WS2812B is an RGB LED with an integrated driver chip in its 5050 package. With the integrating the driver chip, it's easy to drive a chain of 1024 LEDs from a single GPIO pin with up to a 30fps refresh rate, with every pixel individually addressable. Each pixel has 256 levels brightness and 16777216 possible color variations. And the WS2812B only requires four pins: the driver IC and LEDs share the same 5V power and GND pins, and there are 2 pins for signal I/O.
There are great open source WS2812 driver libraries available online for Arduino and other microcontrollers and single-board computer platforms.
Specification:
Operation voltage: DC 5V
LED number: 256
LED pitch: 10mm

Waterproof: NO

Dimension: 8 x 32 cm
FPCB color: black

Packing List
1. WS2812B LED 8x32 matrix panel x1
2. LED controller (not programmable) x1
3. RF controller x1
4. 5V Pro Micro development board x1 (kit option)
5. USB cable (kit option)
Library and Arduino Code:

Arduino Code: https://github.com/NoahNOA/SP-Bricks/
Flexible RGB LED Matrix 8x32 (WS2812B) (101801)