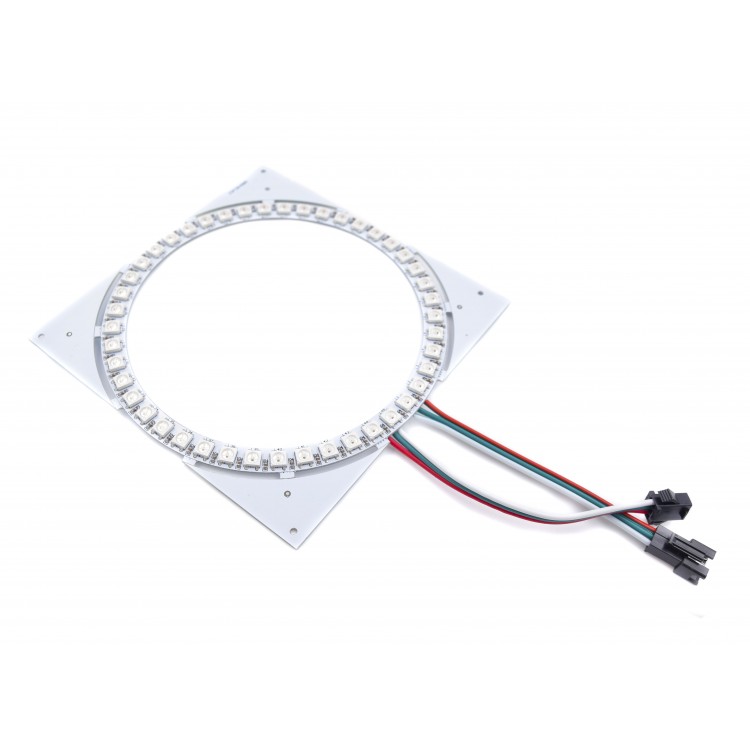 Description
This larger LED ring has 45 addressable SK6812 RGB LEDs on board with two sets of 3-wire input and output cables and connectors. Daisy chain away with more LED rings.
These SK6812-based LED strips work as a drop-in replacement for the older WS2812B-based strips in most applications, and they can chain together with the WS2812B-based LED strips.
If you want to experience the brilliance of the LEDs without spending time on coding, you can also add-on a small controller. All you need to do is plug it into your power supply and enjoy!

Specification
LEDs: 45
Dimension: 120mm diameter

LED model: SK6812
LED Light color: 256 RGB
Operating Voltage: 5V
Waterproof: NO

PCB Thickness: 1.0mm
LED controller: Optional (Note: The LED controller is not open-source device)

Links
Addressable RGB LED Ring SK6812 (45 5050 LEDs) (101863)
45 addressable SK6812 RGB LEDs make up this brilliant ring. Optional controller available to avoid heavy-duty programming