E-Ink Display Module Tutorial Part 1 - Text
E-Ink Display Module Tutorial Part 1 - Diplay Text with Arduino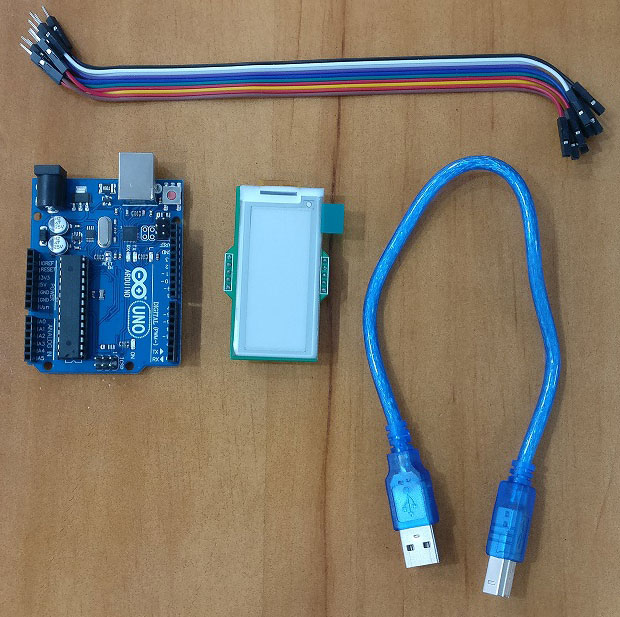 This module was designed to be used without adding any additional circuits or components. Even though this tutorial doesn't use breadboards, feel free to use two of them to connect the Arduino Uno to the E-Ink Display module.
To get started you'll need:
Hardware:
x1 Arduino Uno
x1 E-Ink Display Module
x1 A-B USB Cable
x1 Dupont (10 wire version) (for breadboard use x1 male-male Dupont)
Software:
Arduino IDE
E-Ink Library
Step 1: Connect the Arduino Uno board and E-Ink Display module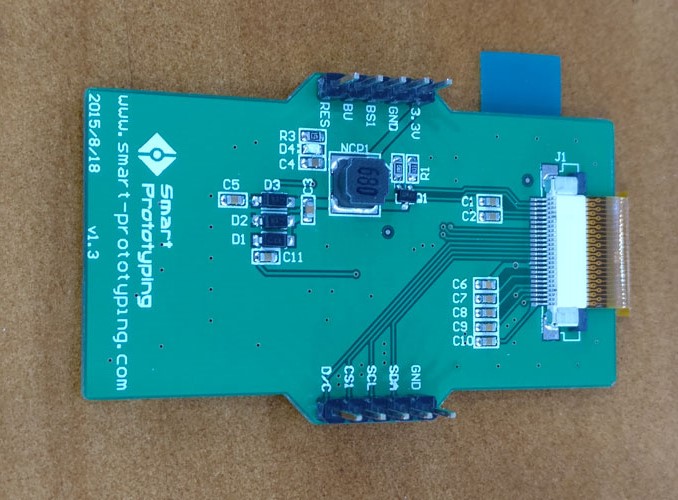 •
Make the following connections:
| E-Ink Display | Arduino Uno |
| --- | --- |
| 3.3V | 3.3V |
| GND (next to 3.3V) | GND (next to 5V) |
| BS1 | D8 |
| BU | D7 |
| RES | RESET |
| SDA | D11 |
| SCL | D13 |
| CS1 | D6 |
| D/C | D5 |
Step 2: Install the E-Ink Library
•
After installing the Arduino IDE, open the program.
•
Import the E-Ink Library by going to
Sketch>Include Library>Add .zip Library
•
Select the
SmartEink_Arduino_Library.zip
file, a message will show at the bottom reading library was successfully added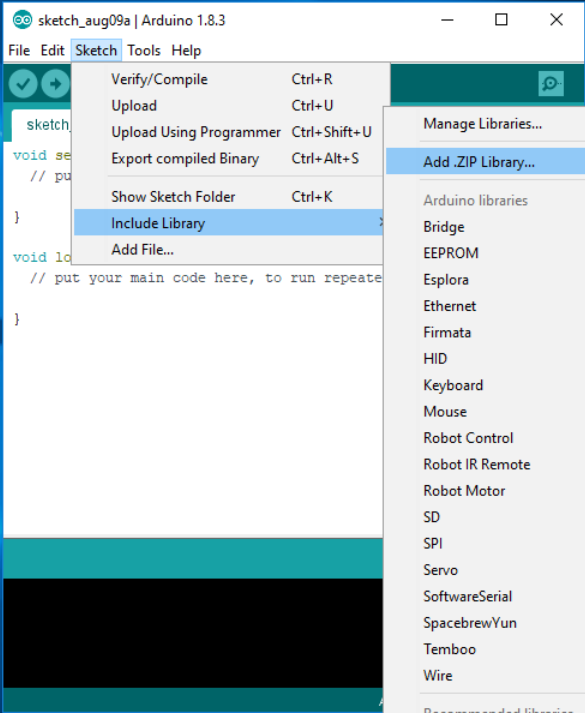 Step 3: Upload and run the code
•
Plug in the USB-B cable into the Arduino Uno and the computer
•
In Arduino IDE, navigate to
File>Examples>SmartEink>ShowStringDemo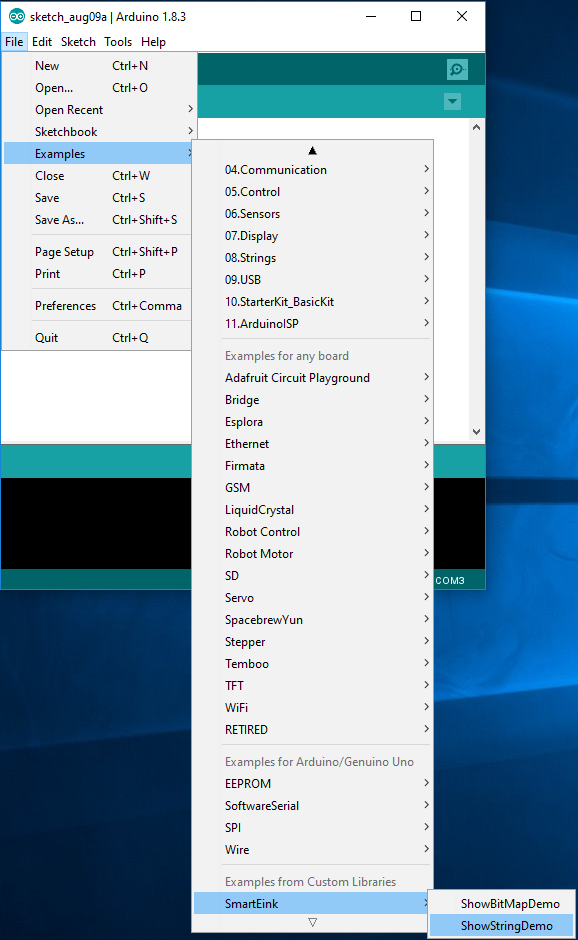 •
Scroll to the bottom, there are 4 lines of filler text in between quotation marks
•
Modify the text in between the quotation marks, in the image below I've modified the first line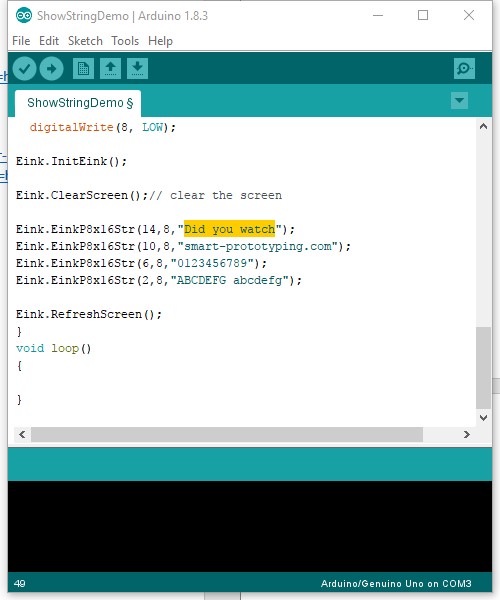 •
Before uploading the code go to
Tools>Board:
and select board you're using, in my case the "Arduino/Genuino Uno"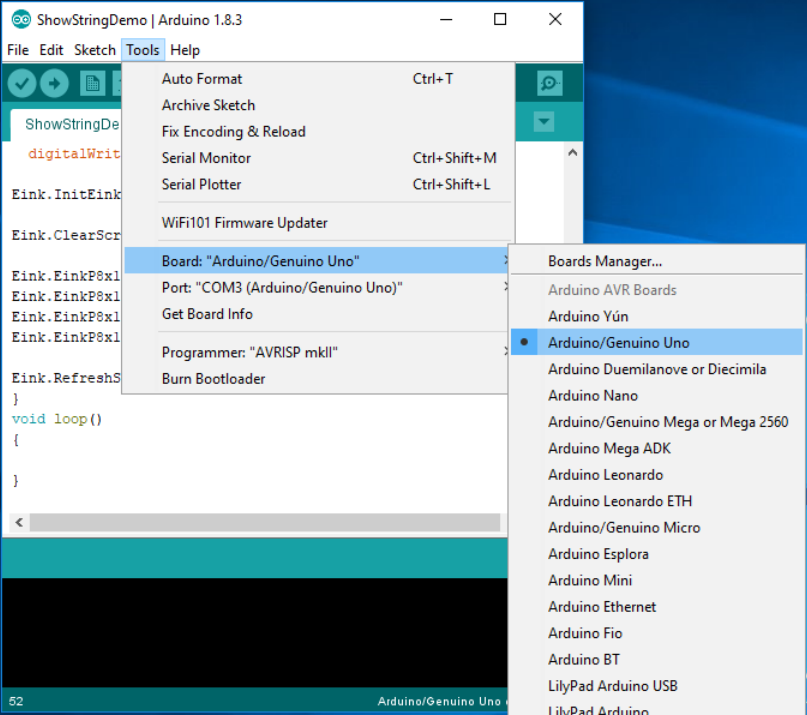 •
Go to
Tools>Port:
and select the correct port, mine was "COM3 (Arduino/Genuino Uno)"
•
Upload and watch your message materialize on the Display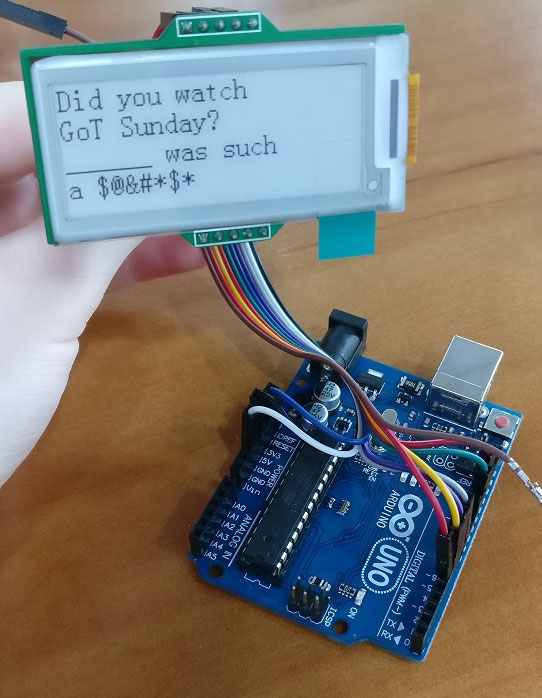 Enjoy!
Leave behind pictures of the graphics or text you programmed in the comments below (no spoilers!). If you're ready to tackle images, check out our
step-by-step tutorial
on image display!