About Smart-Prototyping
Posted by
admin,
09/04/2016

Coming from Germany, we LOVE to build, design and engineer. But we also know that the prices for prototyping components, equipment, and services in Germany and most other industrial nations are pretty high.

After having spent one year in Shenzhen, China and gaining access to the "Factory of the World", we are still astonished every day new how well-priced high quality products can be. Here, in the Pearl River Delta, this competitive price is certainly not due to a lack of quality but emerges from low living costs and the fact that we are in the same spot as the original manufacturers that produce all the stepper motors, soldering stations, LED stripes, OLED displays, smartphones, and tablets that companies in other countries sell for much higher prices.

Of course, it remains crucial to establish the right networks, negotiate in Chinese, and control the quality. But coming from Germany, we know exactly what expectations we and other industrial nations have and that is why we can confidently state: high quality for a competitive price is possible.
Now we want so share this advantage with you!
Smart-Prototyping.com will provide you with a turnkey solution for prototyping services, prototyping components, prototyping equipment and other services.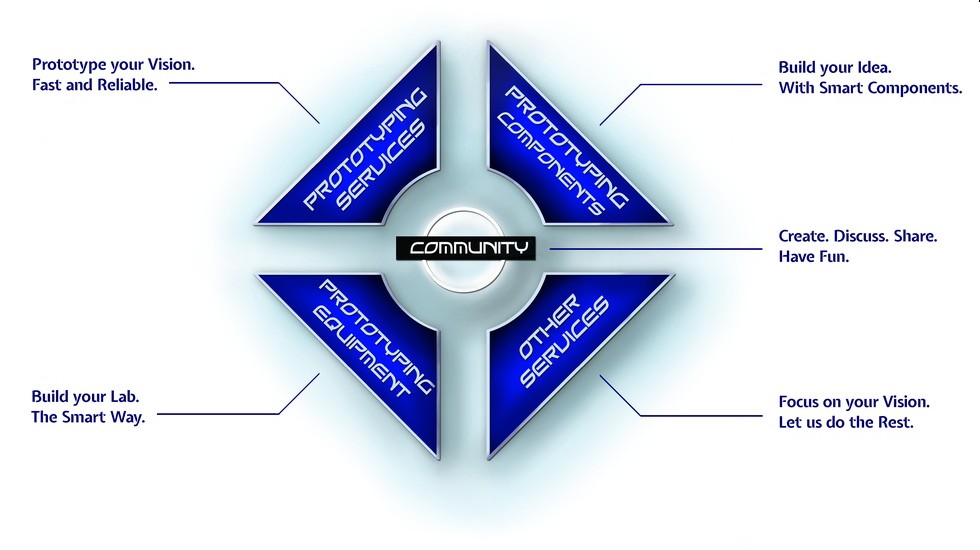 At Prototyping Services you can get everything from a naked PCB up to a full assembled and tested PCBA, some laser-cut, milled or turned parts with anodized surface, high-quality 3D-prints or even prototypes of molded parts - you name it, we make it.
If you are looking for something more specific like e.g. a customized display, touch panel, motor, sensor, battery, connector, or something else, then simply contact us and we will take care of finding a factory for you that suits your demands by having all the machines, processes, and knowledge necessary to prototype or even produce exactly what you are asking for.
At Prototyping Components you can find all the modules needed to build, modify, or test your prototype, or to equip your tinker-corner, lab, or makerspace. Here, our service is to provide you always with at least three options: a fully functional low-budget device, a device for medium budgets with a good price-performance ratio, and a device for high-end professional use.
At Prototyping Equipment you will find all the equipment which you need to build, modify or test your prototype or to equip your tinker-corner, lab or makerspace. Here we will try to provide you always at least three choices: a low-budget but still full working device, a device for medium-budget but with good price performance ratio and a device for professional use.
With all of our services and products our goal is ultimately to accelerate your prototyping and development while reducing your time and cost. We will try to provide you with as many choices as necessary, but never with so many that it gets too complicated for you to find what you are looking for. You, as our customer, can of course always ask to be provided with alternative variants, custom specific products, or services.
Yours,
Lech Alexander Murawski
M.Sc. Mechatronics
CEO & Founder
NOA Labs